During the Christmas season, I love a good Christmas-movie-hot-chocolate-roaring-fire-blanket combination. Here are a few of my favorites (in no particular order) to inspire you to have your own holiday movie night:)
It's a classic, it's funny, and just plain charming. I love all of the singing and dancing as well as the fantastic costumes!
I absolutly adore this version of A Christmas Carol. The script is almost the book word for word. The animation is brilliant. An lovely adaption all around. My family watched this on Christmas Eve last year!
I'll admit it. The main reason I like this film is the soundtrack. Josh Groban's voice is incredible.
Another holiday classic! Again, I love the singing, dancing, and costumes! So fun!
It's not technically a "Christmas" film, but I love to watch it at this time of year. I'm going to introduce my roommate to it this week!
6. Eloise at Christmastime.
Hilarious, witty, charming. Plus Julie Andrews is Nanny.
This film always make me think of Christmas. Such a perfect family movie.
8. It's a Wonderful Life.
Once again. Classic, classic, classic. I love films set in the 1940s as well, so this one is a winner.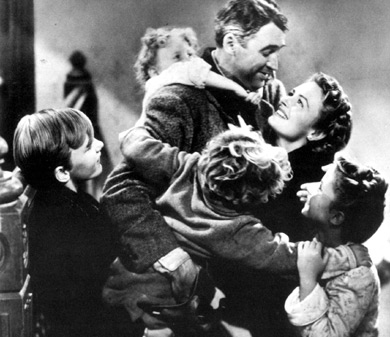 9. It happened on 5th Avenue.
Super duper cute movie! I just saw it last year for the first time and loved it!
10. The Chronicles of Narnia: The Lion, the Witch, and the Wardrobe.
My personal favorite Narnia movie. It is all snowy and wintery and tells the Christmas story in a subtle way if you want to hear it.